a Memorial Service was held on Wednesday, August 16th, 2006 at the Archwood United Church of Christ, 2800 Archwood Avenue. a Courtyard Reception at the Church followed - hosted by the Historical Society of Old Brooklyn. Thanks to Rev. David Bahr, Archwood UCC and his congregation for hosting the memorial as well as members of the Brooklyn Centre Historical Society, Historical Society of Old Brooklyn, Rev. Robert Andrews, Rev. Neil Wilds and relative Norm Foose.
RUTH E. KETTERINGHAM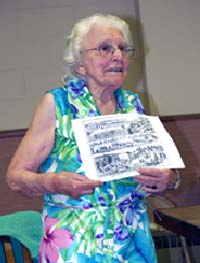 Ruth Ketteringham, presenting to the Historical Society of Old Brooklyn at their first meeting of the season in September, 2003.
Ruth E. Ketteringham, born October 28, 1906, passed away on July 26, 2006, just about 12 weeks shy of her 100th birthday. She was the daughter of the late George H. and Rose L. Ketteringham and the twin sister of the late Rose Catherine Ketteringham (1906-1934).

Ruth was born in and lived most of her 99 years in Cleveland, mainly in the areas now known as Pearl/Scranton, Brooklyn Centre, Tremont, and Old Brooklyn. She graduated West Commerce High School (1909-1929) in 1925, saying of her schooling, "I am a member of the first generation that was expected to go to high school...We had an exceptional education" (from Tremont Oral History Project, undertaken by the CSU Department of History in 2003). Also appearing in that Project, is this statement from Ruth: "I don't believe anything I haven't researched."

Ruth worked in the administrative and secretarial fields for almost 50 years, including 26 years for the Visiting Nurses Association.

It was only recently, in the 1970s, that Ruth began dedicating herself to Cleveland's history. Ruth was regarded as one of Cleveland's most noted historians, her knowledge encompassing the area once known as Brooklyn Township, which covered areas that now include Ohio City, West Cleveland, Tremont, Brooklyn Centre, Old Brooklyn, and parts of Linndale and Brooklyn Hts. (From the Foreword written by Ruth in 1981 for the book "Old Brooklyn New, Book II," written by Kathryn Gasior Wilmer, long-time Cleveland librarian.)
The recently published 2004 book, "Reflections from Brooklyn Centre," a project of The Brooklyn Centre Historical Society, is dedicated to Ruth Ketteringham, stating in part: "without her help and vast knowledge this project would not have been possible." Her picture appears on the dedication page, standing by the street sign "Ketteringham," the street named after Ruth's father.

Ruth was active in many organizations, including the Early Settlers of the Western Reserve (served as historian from 1973 to 2003), the West Denison Classmates, the Brooklyn Centre Community Association (formerly the Archwood-Denison Concerned Citizens), the Brooklyn Centre Historical Society, and the Historical Society of Old Brooklyn.

In the 2003 Annual Report of the Cleveland Public Library, an article about Ruth reads in part: "Ruth Ketteringham may be the Library's most loyal patron, as she began visiting the Brooklyn Branch in about 1910--nearly 100 years ago. Mrs. (sic--should be Miss) Ketteringham's father, inventor George Ketteringham, was a self-taught historian; he passed his passion for Cleveland's past on to his daughter. An active historian . . . her love of history has been beneficial to the Cleveland Public Library, as she has donated valuable records from local churches and from Denison Elementary School. She has also contributed more than 300 books and pamphlets on Cleveland history, and nearly 400 postcards featuring Cleveland area attractions. A generous gift of $1,000 from Mrs. (sic--should be Miss) Ketteringham helped the Library acquire documents spanning 75 years on Euclid Beach Amusement Park." Those interested in Cleveland's pictorial history may want to visit the Cleveland Public Library to view the George H. Ketteringham collection.

Ruth donated to the Western Reserve Historical Society a doll bed made by her father, as well as her precious childhood baby doll.
For 27 years, Ruth was instrumental in the planning and presentation of the Memorial Day program at the Denison Cemetery, located at 2300 Ellen Alley, reached via Garden Avenue off West 25 Street.

A lady of Cleveland, a well-respected Cleveland historian, known and loved by many hundreds of Clevelanders, Ruth E. Ketteringham will be greatly missed.

At 2 p.m. on Wednesday, August 2, there was a memorial service for Ruth at the Royalton Woods Retirement Center, 14277 State Road, North Royalton. Another memorial service in Ruth's honor will be held at 7 p.m. on August 16, 2006, at the Archwood United Church of Christ, 2800 Archwood Avenue, Cleveland, OH 44109.
Merle R. Gordon, Former Council Representative, Ward 15, City of Cleveland
(July 2006):
Her [Ruth's] work, like history is never actually has closure. I am deeply saddened to hear that she died. She taught me so much about community, to the preservation and importance of place. She showed me what a woman's tenacity can achieve from the street named after her, to the boulder in the cemetery* on Garden Avenue. Unfortunately I only knew her for the last decade of her life – celebrating each Memorial Day and gatherings throughout the year; each time it was a new lesson, a new story about her life, the history of Brooklyn Centre or some tidbit of gossip she chose to share in a private moment. I will always remember her fondly.
*Brooklyn Centre Burial Ground (AKA Grand Army Cemetery and Denison Street Cemetery)

More Information:
Death Notice
Plain Dealer
July 29, 2006
"Ruth Ketteringham, preserved, promoted history of Cleveland"
Alana Baranick, Reporter
Plain Dealer, Monday, July 31, 2006, p. B-5
"Ruth Ketteringham dies at age 99"
Bill Barrow, Special Collections Librarian
Cleveland State University Library
Cleveland History Blog, 7/31/06
http://clevhist.blogspot.com
"Ruth E. Ketteringham, local historian, passes on"
Lynette Filips
Old Brooklyn News, 28:7 September, 2006, p. 1-2.
Related References:
"Local historian Ruth Ketteringham, continues to share her passion for history"
By Brian J. Cummins
Old Brooklyn News, October 2003
Tremont Oral History Project
Interview with Ruth Ketteringham (Angelo Tinsley, 1 April 2003) [pdf]
"Euclid Beach Documents at CPL"
Speaking Volumes Fall 2004
Cleveland Public Library
Denison Cemetery (Grand Army Cemetery or Brooklyn Centre Burial Grounds)
RootsWeb.com
The Encyclopedia of Cleveland History: Cleveland Hall of Fame
(...originally conceived by Ruth Ketteringham)
The Encyclopedia of Cleveland History: George H. Ketteringham
Ohio Cemetery Preservation Society
"Brooklyn Union Burying Ground"
By Lynette Filips
Ohio Cemetery Preservation Society Report