The future of our past depends on you
Please consider including the Historical Society in your stable of charities. Our membership fees don't cover the cost of "keeping the lights on" so we need to find additional funds each year for our daily operations.
The old neighborhood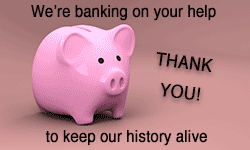 Many of you are not currently Old Brooklyn residents but look back to your formative years here. Maybe it was childhood or your early adult years when you first made your way on your own. In any case, Old Brooklyn is a part of what made you who you are. The Historical Society is a homecoming and you're always welcome! We encourage you to keep your memories alive and pay forward to those who will make their own memories here.
A sense of place
A sense of place reflects our history but it also helps imagine a future. When residents develop an identity and form an attachment to a place it informs plans for a sustainable future. A strong historical society helps build community and contributes to the well-being of Old Brooklyn now and for years to come.
Help us provide a bright future by preserving the past.
And please note: The Consolidated Appropriations Act of 2021 extends and increases the above-the-line deduction for contributions to charities made in 2021 and provides a $600 deduction for taxpayers filing a joint tax return.